Sunday Forecast: A cloudy, cool Mother's Day Sunday
Published: May. 8, 2021 at 4:23 PM CDT
|
Updated: May. 8, 2021 at 11:00 PM CDT
LINCOLN, Neb. (KOLN) - After a stormy evening across parts of south central and southeastern Nebraska, cloudy, cool, and breezy weather is expected into Mother's Day Sunday.
Lingering showers and thunderstorms are expected across the eastern quarter of the state into very early Sunday morning. Some pockets of heavy rain, gusty winds, small hail, and lightning are expected with storms as they slide through the area. The threat for severe weather is extremely low at this point. Some lingering rain will be possible into Sunday morning across the area, but for the most part we should be mainly dry. Clouds will hang around the state for most of the day on Sunday and on the backside of a departing low pressure system, winds will be out of the north and could be a bit blustery at times for eastern Nebraska with sustained winds at 8 to 18 MPH with gusts up to 25 MPH possible. By late Sunday afternoon into the evening, clouds will try and break up with skies becoming mostly clear to partly cloudy by Sunday night.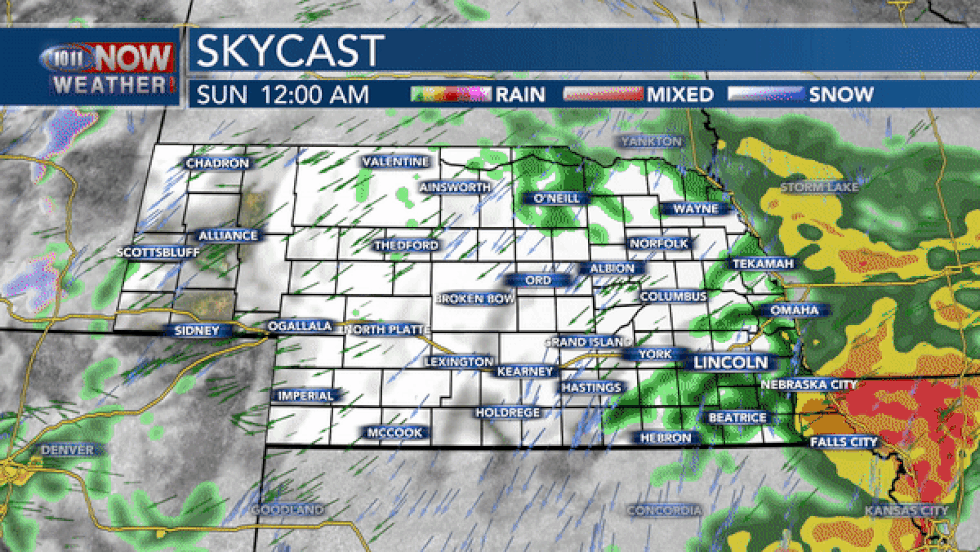 Temperatures will be chilly for Mother's Day Sunday with morning lows falling into the low 30s to low 40s across the state. Wind chills could even dip into the 20s for some locations into early Sunday morning.
On the backside of a departing low pressure system, cooler air will get wrapped into the area for Sunday. Combine the cooler air mass and the cloud cover and temperatures will struggle into the 50s for most of the state by Sunday afternoon. With highs in the 50s for most, most areas will be 10° to 20° below average by Sunday afternoon. Factor in a brisk north wind and overcast skies, and it will feel more like early March as opposed to early May.
With some clearing Sunday night into early Monday, it will be a cold night with some patchy frost possible across the area as low temperatures dip into the 30s across the state - including into the upper 30s here in Lincoln.
Temperatures then likely stay unseasonably cool to start the week with temperatures in the low 60s for Monday, Tuesday, and Wednesday. Temperatures rebound for the second half of the week and into next weekend, getting back into the 70s to near 80°. Monday looks like it should remain dry, but the rest of the week and into next weekend holds at least small chances for some showers or thunderstorms.
Copyright 2021 KOLN. All rights reserved.