Wednesday Forecast: Cooler temperatures, snow chances return to the forecast...
Published: Jan. 10, 2023 at 4:36 PM CST
|
Updated: Jan. 11, 2023 at 9:29 AM CST
LINCOLN, Neb. (KOLN) - After some very mild January weather to start the week, colder temperatures and chances for some light snow highlight the forecast as we head into the day on Wednesday and into Wednesday night. Overall, the weather pattern looks to potentially turn a little more active as we head over the next week to 10 days with multiple rounds of moisture possible.
Into the day on Wednesday, upper-level energy will dive south into the area with a low-pressure system skirting the area just to the south. This system is expected to bring areas of light snow to the state, starting in western Nebraska on Wednesday morning, with snow spreading into southwestern and southern parts of the state through the day and into Wednesday evening. For Lincoln and southeastern Nebraska, temperatures could be warm enough for us to initially see some areas of very light rain that could transition to a wintry mix and then to all snow by late Wednesday night.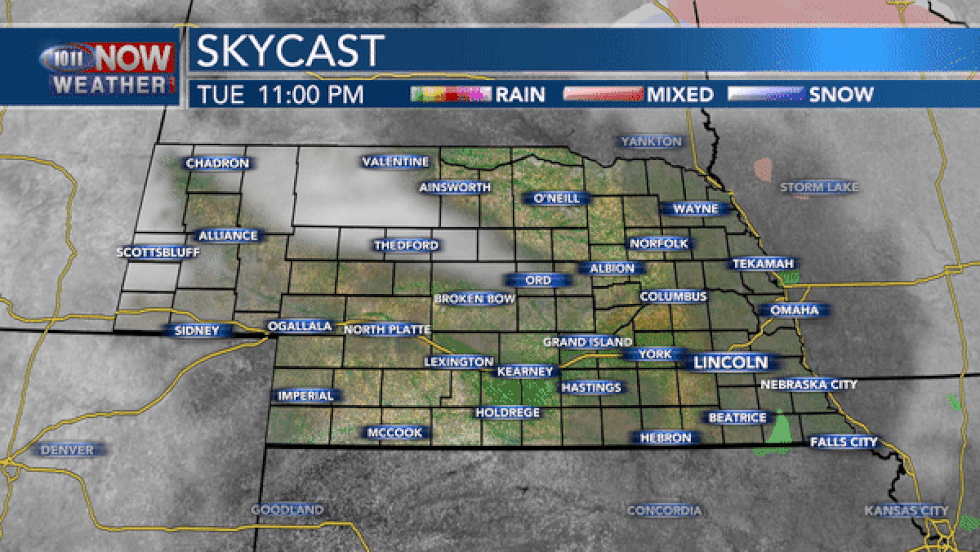 Precipitation is expected to be pretty light, as forecast snowfall amounts of a trace to 1″ are expected for most of the area. 1″ to 2″ of snow is possible for parts of the Panhandle and into southwestern Nebraska, then down into parts of Kansas. Now it should be said that this round of snow is highly dependent on the track of the low-pressure system and some of the short-term models have a more northerly track, bringing a band of some heavier snow to the Nebraska-Kansas border. This solution isn't out of the question, but most of the short-term models keep the most accumulating snow down to our south across parts of Kansas.
As far as temperatures are concerned, we'll say goodbye to the mild weather we've seen to start the week with colder temperatures forecast for Wednesday.
Afternoon temperatures will still manage to reach the low to mid 40s for southern and southeastern Nebraska on Wednesday - hence the chance for some light rain before we see a chance for light snow. Further to the north and west, look for more seasonal high temperatures in the low to mid 30s with a northerly breeze making it feel even colder.
Thursday morning lows look to stay a few degrees above average, with most of the area seeing lows in the upper teens to low 20s.
Thursday afternoon should be the coldest one of the next week with highs ranging from the mid 20s in northeastern Nebraska, to the low to mid 30s in southeastern Nebraska, to the upper 30s to low 40s in western and southwestern parts of the state. Breezy north and northwest winds at 10 to 20 MPH with gusts to 30 MPH will make feel even colder, with wind chills likely settling into teens and 20s by Thursday afternoon.
The extended forecast offers us a nice rebound for the weekend with temperatures climbing back up to around 50° with mainly dry weather. Another system looks to swing through the area early next week, offering us a chance for mainly just rain on MLK Day on Monday. Longer range models show several systems moving through the area through the week next week, hinting that a more active and wetter pattern could be emerging for next week - stay tuned!
Copyright 2023 KOLN. All rights reserved.