Thursday Forecast: Colder weather to finish the week...
Published: Jan. 11, 2023 at 1:37 PM CST
|
Updated: Jan. 12, 2023 at 12:05 PM CST
LINCOLN, Neb. (KOLN) - Colder and blustery conditions expected on Thursday. More sunshine with seasonal temperatures for Friday. The extended forecast is highlighted by a mild weekend with a more active and wetter weather pattern emerging through the week next week.
Clouds should begin to clear as we head into Thursday afternoon with mostly to partly sunny skies across the state for the afternoon and evening hours.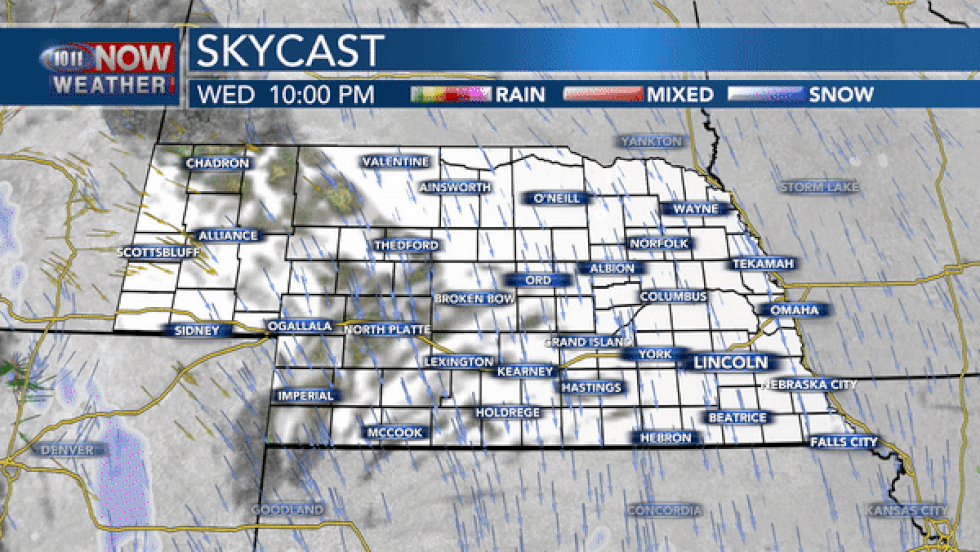 Colder temperatures will hang around into the afternoon, as we'll see our coldest day of the next week on Thursday. Highs will only reach the mid to upper 20s in northeastern Nebraska, with the rest of the coverage area seeing highs in the 30s. Coupled with the breezy north winds though, wind chills by the afternoon will only be in the teens and 20s, so make sure to bundle up!
Low temperatures Thursday night into Friday morning will be closer to average lows for this time of year.
Temperatures begin to rebound on Friday, returning to around normal for eastern Nebraska with highs in the mid 30s. Look for temperatures to reach the upper 30s to low 40s for parts of central and western Nebraska.
The extended forecast offers us a very nice weekend with highs in the upper 40s to low 50s for Lincoln, though it could be a bit breezy with southerly winds at 10 to 20 MPH with some gusts up to 30 MPH possible. As we look ahead to next week, long range models have a series of systems moving through the region, the first arriving Sunday night and into MLK Day on Monday. This first system appears warm enough to offer eastern Nebraska just rain, but the 2nd and 3rd systems arriving later in the week could bring in some areas of snow, and possibly some heavy snow for some - stay tuned!
Copyright 2023 KOLN. All rights reserved.