Tuesday Forecast: The calm before the winter storm...
Published: Jan. 16, 2023 at 4:16 PM CST
|
Updated: Jan. 17, 2023 at 11:20 AM CST
LINCOLN, Neb. (KOLN) - If you have errands to run or groceries to get, Tuesday is the day to get it done as the weather will head in the wrong direction as we head into the day on Wednesday with snow, ice, and wind leading to a day where travel will be difficult, and your time will be better spent staying indoors than trying to venture outside.
Before we jump into the meat and potatoes of the forecast, we'll start with the details for the day on Tuesday. Look for variable cloudiness across the state, but with dry conditions for Tuesday. I think Lincoln will see a brief period of mostly sunny skies in the afternoon before clouds build back in ahead of our approaching winter storm. Winds should remain light throughout the day.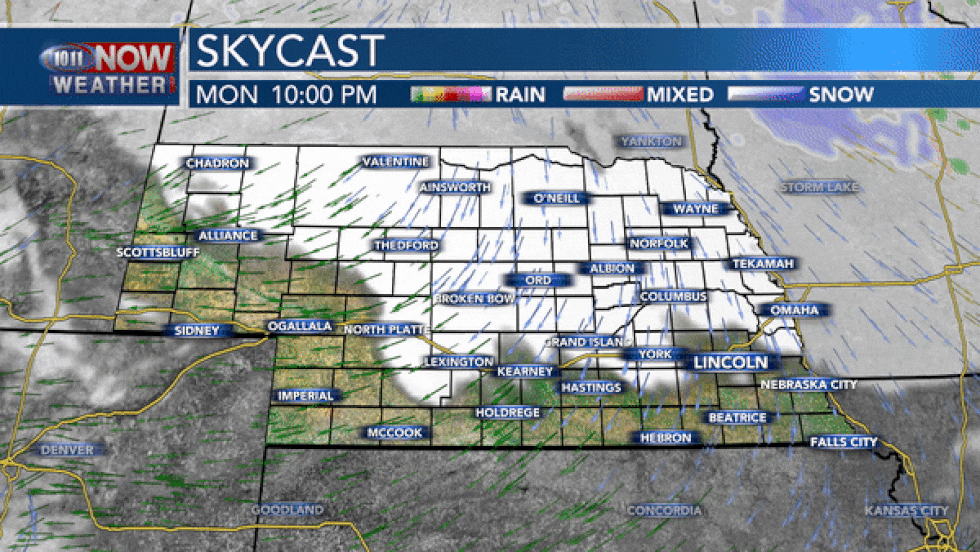 By Tuesday afternoon, a fairly uneventful day is expected with temperatures in the 30s and 40s across the state. The warmest readings are expected for south central and southeastern Nebraska, where temperatures should climb to the low to mid 40s by the afternoon.
The weather starts to turn as we head into Wednesday evening and Wednesday night, when Winter Storm Warning and Winter Storm Watches begin to go into effect. As of Monday afternoon, we still have Winter Storm Watches across central and eastern Nebraska - including Grand Island and Lincoln. These will eventually transition to either Winter Storm Warnings or Winter Wx Advisories sometime either Monday night or into the day on Tuesday.
A significant winter weather event will begin to spread across the state Tuesday night and into the day on Wednesday with snow beginning in the far west by late Tuesday night. Snow will spread east across the state through the overnight hours and then linger throughout most of the day on Wednesday. Snow will be heavy at times, particularly for those areas under Winter Storm Warnings, and we could see snowfall rates up to 2″ an hour at times. The tricky part of the forecast comes as we look at south central and southeastern parts of the state. By early Wednesday morning, the forecast as of now would indicate the potential for a wintry mix of rain and freezing rain being possible. We should transition from that wintry mix to all snow by late morning and into early Wednesday afternoon. However, if we see that transition happen a little sooner, it could mean an increase in our snowfall totals. If we see that transition take a little longer, it could eat into our potential snow and lead to more ice across southeastern parts of the state.
The snowfall forecast as of Monday afternoon carries a large swath of 4″ to 8″ of snow across much of the 10/11 coverage area. A band of even heavier snow with 8″ to 12″ possible is centered across southwestern Nebraska and into eastern Colorado. Further north into north central and northwestern Nebraska should see lighter snowfall amounts with 2″ to 4″ forecast. Southeastern Nebraska also looks to see lighter snowfall amounts based on the current forecast, with anywhere from a trace to 4″ of snow possible. Again, the trickiest part of this forecast is across south central and southeastern Nebraska. Some short term models have higher snowfall amounts in these areas, some have little to no snow in these areas with mainly rain and ice. As there's still nearly 36 hours before snow starts falling, please make sure to stay tuned for further updates as a shift to the north or south with this system will lead to big changes in the forecast.
As far as ice potential, right now it's mainly across southeastern parts of the state where we are concerned with ice. There could be a pocket of ice accumulation between 0.10″ to 0.25″ in southeastern Nebraska, which is certainly more than enough to lead to very slick and difficult travel conditions through Wednesday morning!
Regardless of whether it's ice or snow, travel conditions will be difficult and dangerous beginning late Tuesday night, through the day on Wednesday and into early on Thursday morning as snow ends. Look for snow covered roads across much of the state with a little bit of a breeze also creating some areas of blowing and drifting snow, along with areas of reduced visibility. If you can postpone travel plans, please do so as Wednesday will be a day better spent inside than trying to get around town.
Temperatures on Wednesday aren't expected to move a whole lot. Look for morning lows in the low 20s to low 30s for most, with afternoon temperatures only reaching the upper 20s to low 30s across much of the state. Factoring in a northerly breeze, it will feel even colder.
The extended forecast turns more season past Wednesday with highs generally in the low to mid 30s and lows in the mid teens for Lincoln. Look for some additional small chances for snow nearly everyday through this weekend into early next week.
Copyright 2023 KOLN. All rights reserved.