Weekend Forecast: The arrival of Arctic air and the chance for snow
Published: Jan. 27, 2023 at 7:34 PM CST
|
Updated: Jan. 27, 2023 at 8:28 PM CST
LINCOLN, Neb. (KOLN) - Big changes are taking place in the 1011 region this weekend. A winter storm will push through portions of northern areas through Saturday evening. Plus, temperatures take a polar plunge and will be accompanied by breezy conditions. Bundle up!
A winter storm will move through the northern half of Nebraska Friday night and Saturday. Winter Weather Advisories and Winter Storm Warnings will remain in effect until the evening hours on Saturday for northern Nebraska. The best chance for snow accumulations will be along the northern border and in northern Nebraska.... possible potential snowfall of 3″ to 6″ for northern areas with an isolated area of 6″ to 9″ in northeastern Nebraska. Snowfall potential will rapidly decrease as we head southward, with the potential for only a trace to an inch for areas just along and north of the I-80 corridor. That being said for areas like, Lincoln, and in southern Nebraska we aren't expecting much from the system. A few flurries or light snow showers are possible but little to no accumulation is likely. Now we are expecting breezy conditions for the weekend, which could cause blowing, drifting snow in some areas and limited visibility. Overall, this system could cause hazardous travel conditions in northern areas.
Now for a closer break down of snowfall chances:
The chance for snow on Saturday will primarily reside in the northern half of the state. The main swath of snow will move through northern areas between the morning and early evening hours. The bulk of the system should be out of the north by dinner time, and just leave the chances for isolated snow showers through the rest of the day. As for the southern half of the state, we will keep the chance for a light snow shower or flurry in the morning to early evening. After dinner time and into Saturday night we will see the chance for scattered snow showers build into the southwest and move eastward along the I-80 corridor.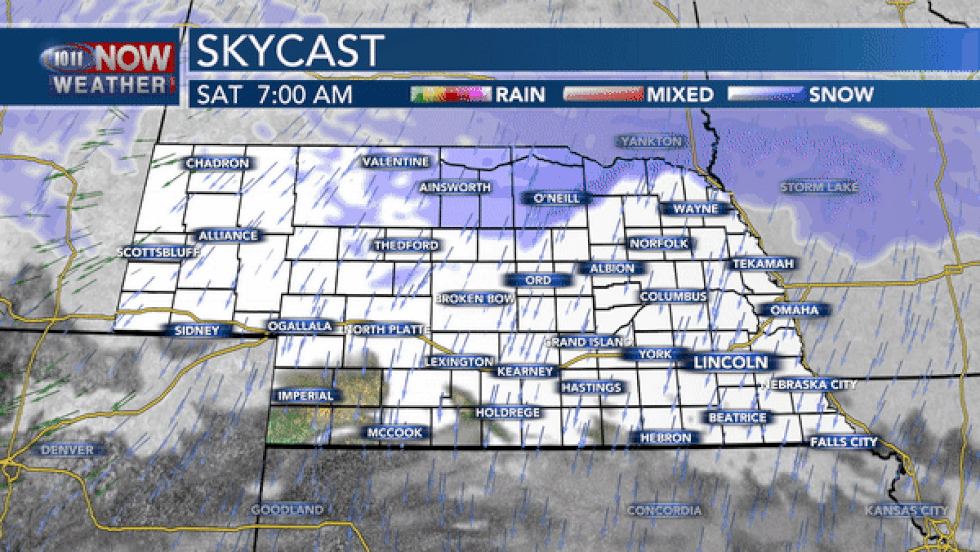 Skies will generally dry up by Sunday for most of the state. There is the small chance for some flurry and light snow activity for eastern and central areas. But all in all, we will see partly to mostly cloudy skies through out the day. As for the Panhandle and portions of western Nebraska, isolated to scattered snow flurries or snow showers are possible throughout the day. Overall, we are expecting little to no snow accumulation.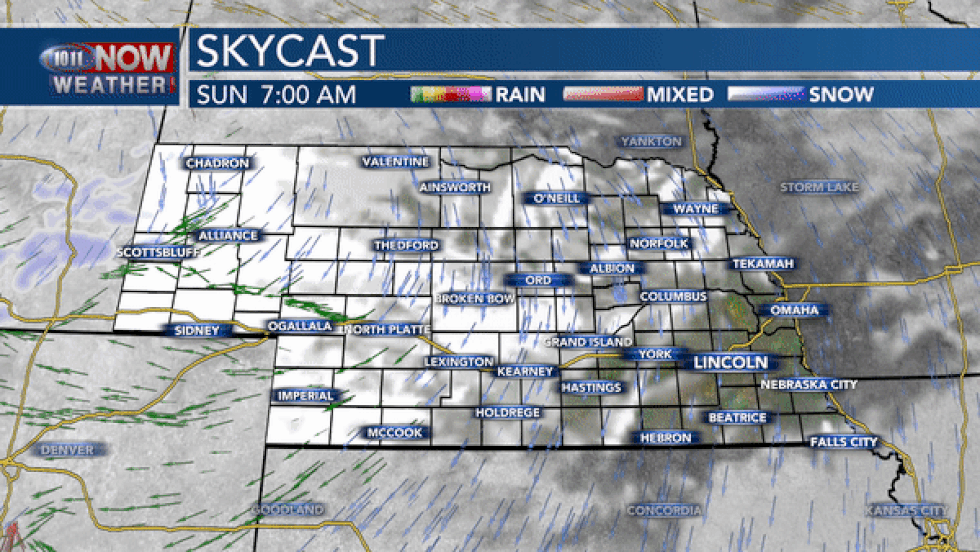 Moving onto temperatures...the Arctic air will funnel in on Saturday and it is going to hang around for a couple of days. Not only will it be cold, but also breezy, therefore wind chill will make these already cold temperatures feel a whole lot colder. Make sure you are taking proper precautions to keep yourself, your loved ones, pets, plants and pipes safe during this cold snap.
Saturday's high temperatures will be significantly cooler than Friday, in the teens to the lower 30s. However, the high temperatures are likely to occur in the early morning hours on Saturday and then will fall to the single digits and teens by the afternoon. Winds will be between 15-25 mph with gusts to 30 mph at times, therefore these temperatures could feel as cold as 10 above to 20 below zero in some areas.
Now a cold day will lead to a frigid Saturday night into Sunday morning. Low temperatures will bottom out from 10 above to 10 below zero. Actual temperatures will likely be the "warmest" and in this case, most likely to be above zero in the southeast. Winds will be between 15 to 25 mph, with gusts of 35 to 40 mph. Therefore, with the wind chill, feels like temperatures will be between 10 to 25 below zero. Wind Chill Advisories will go into effect Saturday evening until Sunday morning for portions of western and central areas. I think as we head closer to Saturday evening, we could see more areas be included in this advisory. As always, stick with us for the latest information.
Sunday high temperatures will be back into the single digits to lower teens... and with winds between 10 to 15 mph, gusting to 25 mph, gear up for wind chill values of 10 above to 10 below zero.
After the weekend, a warming trend will take place through the end of the next work week. We will keep the chance for some flurries Sunday and Monday but the remainder of next week looks to be quiet.
Copyright 2023 KOLN. All rights reserved.