Chilly weather to finish the week; warmer weather returns for the weekend
Published: Feb. 1, 2023 at 1:43 PM CST
|
Updated: Feb. 2, 2023 at 11:20 AM CST
LINCOLN, Neb. (KOLN) - After a couple of colder days, we've seen warmer weather to start off the month of February. Temperatures look to take another quick dive over the next few days, but the long range forecast is highlighted by well above average temperatures this weekend and through the week next week!
A backdoor cold front is forecast to slide through the state as we head into the day on Thursday, this will bring variable cloudiness to the area through the day on Thursday with blustery north and northwest winds gusting to 30 MPH or more at times through the afternoon. While some clouds are expected, dry weather should continue through the day tomorrow with precipitation not expected into the forecast until early next week. With some melting of the current snow pack across the state, some areas of patchy fog can't be ruled out tonight into early on Thursday.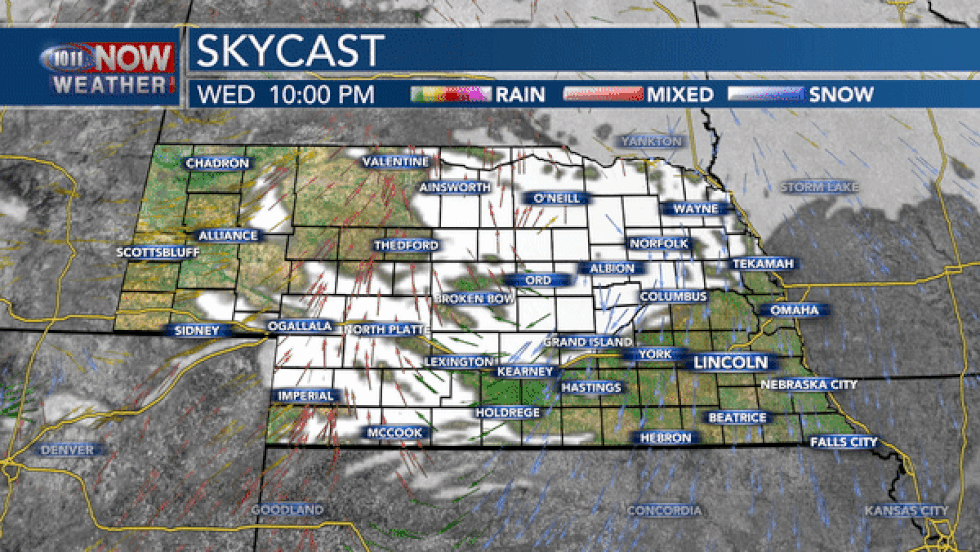 Look for colder temperatures by the afternoon on Thursday compared to Wednesday with highs only reaching the low to mid 20s for the northern parts of the state, with low 30s for southern and southeastern Nebraska. Temperatures will fall into the teens and lower 20s by late this afternoon. Blustery winds will make it feel even colder with wind chills in the teens and 20s by the afternoon.
The coldest temperatures of the next week will come into Friday morning with clearing skies and light winds across the region. Add that to the snowpack currently on the ground and some bitterly cold conditions are possible to start Friday with lows falling below zero across northeastern Nebraska, with single digits for the rest of the 10/11 coverage area.
Afternoon highs on Friday to finish the week will stay cold, especially in northeastern Nebraska where highs will stay in the 20s. Look for low 30s to low 40s for the rest of the state with mostly sunny skies to end the work week.
Mild weather is set to return for this weekend and into the week next week. Look for afternoon temperatures for both Saturday and Sunday to reach the low 50s for Lincoln and southeastern Nebraska. Temperatures will be colder for those areas that still have a deep snowpack, but still should warm into the mid 30s to low 40s on both Saturday and Sunday.
The extended forecast keeps the mild weather going into the week next week with above average highs and lows expected for Lincoln. Small chances for moisture are included in the forecast through early next week, but if we do see any moisture, expect it to remain very light.
Copyright 2023 KOLN. All rights reserved.