Winter storm brings rain, snow, ice, high winds, and falling temperatures
Published: Mar. 15, 2023 at 3:42 PM CDT
|
Updated: Mar. 16, 2023 at 3:21 PM CDT
LINCOLN, Neb. (KOLN) - Thursday will bring a cornucopia of issues to the region as potent winter storm sweeps through the region. The forecast is highlighted by falling temperatures, high winds, rain, snow, ice, and difficult travel conditions into the day on Thursday.
Winter Weather Advisories and Winter Storm Warnings are in effect across parts of central and northeastern Nebraska.
Throughout the day Thursday, you can expect rain, mixed precipitation and snow for portions of the 1011 region. Thursday morning rain is expected to expand in coverage across the eastern third of the state - so Lincoln and eastern Nebraska will likely start Thursday with areas of light to moderate rain. Central and western Nebraska will already be cold enough at that time to see areas of snow which could be heavy at times. Through Thursday morning, temperatures will be falling rapidly as cold air rushes into the state. As temperatures fall, precipitation will transition from rain to a wintry mix to all snow through the late morning and early afternoon. There is the potential for a brief period of heavy mixed precip before we transition to snow across the area. By the early afternoon, most of eastern Nebraska should have seen a transition to all snow with precip moving east of the area by mid to late afternoon on Thursday.
All that being said, there's a number of issues to unpack from the forecast. The first being that wet roads could see a flash freeze as temperatures quickly fall. This could by itself create slick and hazardous travel conditions, but on top of that we could add a glaze to a few hundredths of an inch of ice on top of that with the potential for freezing rain or sleet. Then on top of that, we have the potential to add some light to moderate snow across the region. When you put it all together, very difficult travel conditions will be possible just with the ice and snow on the roads. When you pair ALL of that together with the fact that winds could be gusting up to 50 MPH with light to moderate snow, there could be a several hour period of blizzard conditions across the state, creating even further travel difficulties.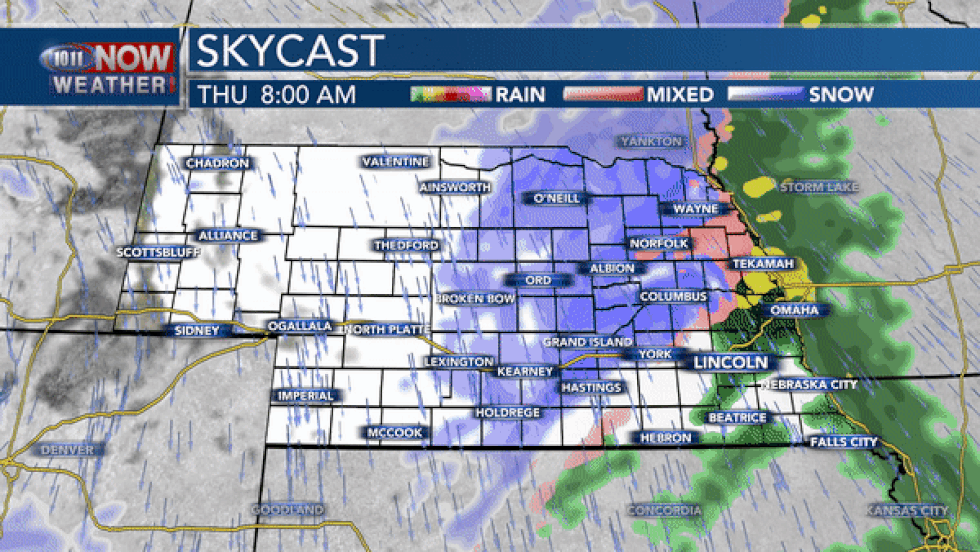 Total snowfall accumulations aren't expected to be that high, especially for Lincoln and eastern Nebraska as we'll need to wait for a transition from rain to snow + the system will be moving through fairly quickly. Look for a trace to 1″ in Lincoln. The highest snowfall amounts are expected where we could see snow for the longest period, which is across north central and northeastern Nebraska, where 3″ to 5″ of snow is possible. 1″ to 3″ of snow is possible for parts of the state, including North Platte, McCook, Grand Island, Hastings, and Columbus.
For Lincoln and southeastern Nebraska, this system will mainly bring rain to the area on Thursday. Total liquid precipitation amounts - rainfall + the liquid equivalent of melted snow - is expected to range between 0.10″ to 0.25″ on Thursday. Most of that will likely fall in the form of rain through the morning before possibly becoming a wintry mix and then snow in the late morning to early afternoon.
As mentioned above, temperatures will be tumbling through the day on Thursday behind a potent cold front. Highs for most of southern Nebraska will come at midnight with falling temperatures through the entire day. By the time we are supposed to hit high temperatures this afternoon..... temperatures will have fallen into the 20s and 30s.
Very strong north winds will make it feel even colder throughout the day on Thursday. Look for wind chills to likely settle into the single digits and teens by Thursday afternoon when we could the falling temperatures with north winds that could be sustained at 25 to 35 MPH with wind gusts as high as 50 MPH. Winds will be a little bit lighter in the morning and should be strongest through the afternoon before settling down a bit by Thursday night. Southeastern Nebraska will be under a Wind Advisory starting at 10 AM for northwesterly sustained winds between 25 to 35 mph, with gusts to 50 mph. Gusty winds may blow around unsecured objects, blow down tree limbs and a few power outages may result.
Behind this system, generally cold and dry conditions are expected for Friday and into the weekend. Temperatures will be WELL below average, with lows by Sunday morning falling into the single digits to low teens across the state. Temperatures will eventually climb back to the 40s and 50s through early next week, but even those numbers will be a few degrees below average for mid to late March.
Watch Live 24/7 Weather, with up-to-the-minute radar and forecast information here:
Copyright 2023 KOLN. All rights reserved.