Sunday Forecast: Chilly with morning snow chances
Published: Mar. 25, 2023 at 7:20 PM CDT
LINCOLN, Neb. (KOLN) - The end to the week will be chilly with mainly a morning chance for snow. However, lingering snow flurries and showers are possible throughout the day.
A system will bring rain, a few isolated thunderstorms, mixed precipitation and snow to areas along the I-80 corridor Saturday evening through early Sunday morning. Winter Weather Advisories and Winter Storm Warnings have been issued for the Panhandle and areas along I-80. Areas along I-80 could see 1″ to 3″ with locally higher amounts possible.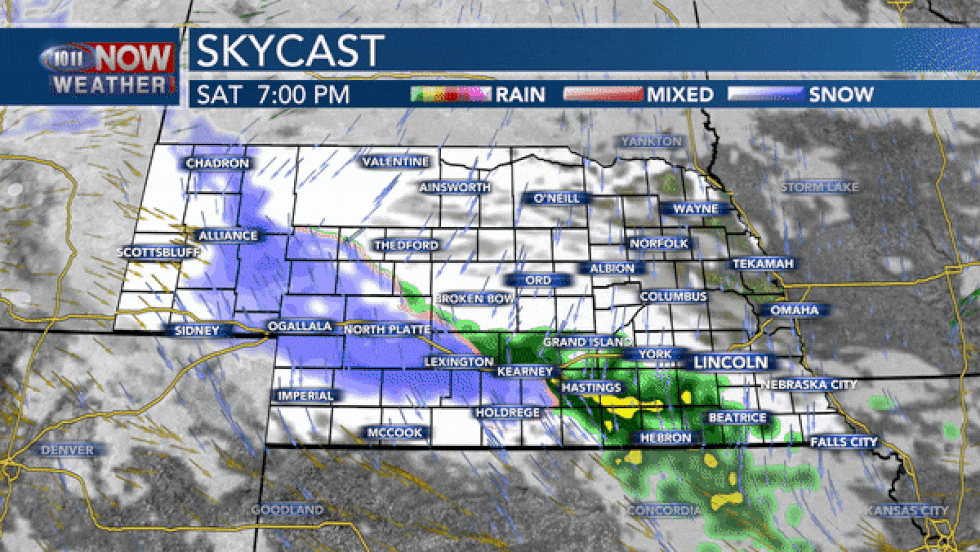 The bulk of the snowfall chances will taper off in the morning hours on Sunday. However, lingering snow showers can't be ruled out through the remainder of the day. Skies will be mostly cloudy at first but slowly decrease to partly to mostly sunny skies by the evening hours. The chilly temperatures return Sunday with highs only getting up into the upper 30s to lower 40s across the state.
Things will quiet down Sunday night and into Monday morning. Cloud cover will decrease to partly to mostly clear conditions but it will be a chilly below average night. Low temperatures will fall to the upper teens to mid 20s.
Monday will bring another day of chilly conditions and another round of snow chances for western and central areas. High temperatures will be significantly below average once again.... in the mid 30s to mid 40s. Overall skies will be partly to mostly cloudy. There will be the chance for snow in the western and central areas starting in the morning and continuing throughout the day.
Temperatures will build back into the 50s and lower 60s for the next 7 days. Rain chances return mid-week next week and continue through the end of the work week.
Copyright 2023 KOLN. All rights reserved.