Memorial Day Forecast: Hit or miss precip chances & warm temps
Published: May. 26, 2023 at 4:11 PM CDT
|
Updated: May. 28, 2023 at 9:57 PM CDT
LINCOLN, Neb. (KOLN) - Memorial Day will bring another round spotty rain and storms chances, some may be severe in some areas.
Scattered rain and thunderstorms will develop across the 1011 region Sunday evening. Isolated strong to severe storms are possible in the western half of the 1011 region...mainly between 6 PM and midnight. Primary storm threats include hail and damaging winds. In addition, some storms may produce heavy rainfall and localized flash flooding this evening, primarily in the southwestern areas of Nebraska, that have seen large amounts of rainfall in the last several days. The eastern half of the state will also see the chance for widely scattered rain and storm activity. A few of these storms may be strong and could produce small hail or winds of 40 mph.
For our Monday/Memorial Day we are expecting another day of warm temperatures and two round of precipitation chances for the 1011 region. Isolated to widely scattered rain and thunderstorm activity is possible in the morning to early afternoon for eastern areas. Then the better chance for rain and storms develop in the west and central areas in the afternoon to evening hours. There is a marginal threat for severe weather in the west in the afternoon and evening hours.... where hail and damaging winds are the primary storm threats. High temperatures will be up in to the low to mid 80s!
Monday night into Tuesday morning will bring low temperatures in the mid 50s to lower 60s. Skies will be partly cloudy with an isolated chance for rain or a thunderstorm.
The hit or miss rain and storm chances follow us into Tuesday. It will be a partly cloudy day with scattered rain and thunderstorms possible in the mornign and then again in the afternoon/evening. Isolated rain chances in the northeast in the morning. Primary chance for scattered rain and thunderstorms develop in the afternoon and persist through the evening. Isolated strong to severe storms are possible across much of the 1011 region in the afternoon to evening hours, damaging winds and hail are the primary storm threats. Lincoln and southeastern areas are not included in the marginal risk of severe weather. High temperatures will bump up to the mid 80s to lower 90s! Along with the warmer temperatures, a light southerly breeze will funnel in more moisture into the region... meaning muggier conditions will be possible.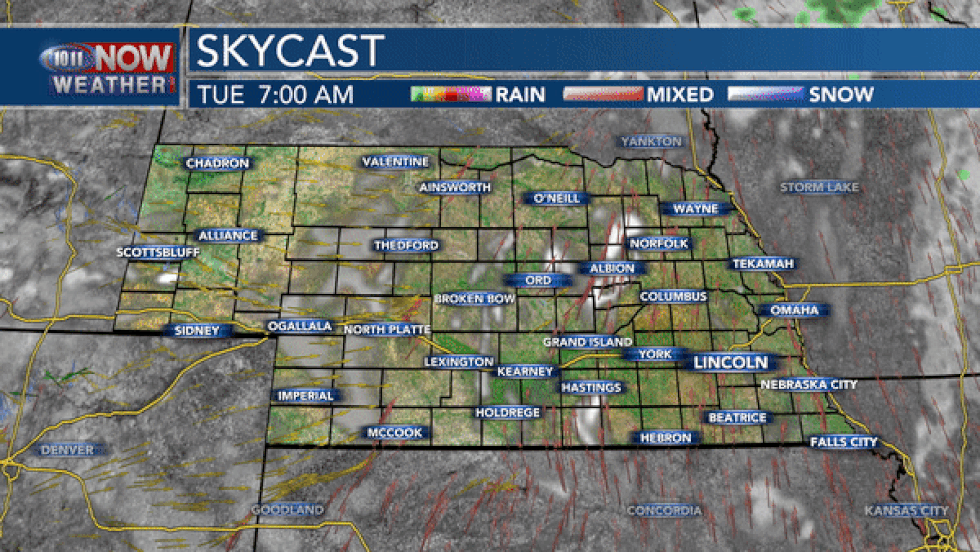 Warm to hot temperatures along with spotty rain and thunderstorm chances persist for the next week!
Copyright 2023 KOLN. All rights reserved.