Thursday Forecast: Another weak cold front approaches
Published: Sep. 13, 2023 at 4:16 PM CDT
|
Updated: Sep. 14, 2023 at 7:12 AM CDT
LINCOLN, Neb. (KOLN) - Our next weather-maker will enter the 1011 region come Thursday morning. The cold front will move across the state over the next 2 days or so and bring a few chances for rain and storms.
The front will enter the Panhandle and northwest Thursday morning and will move southeast. The development a line of broken rain & storm chances will form along the front by the afternoon mainly in the northwest. The front continues to sink southeast through the second half of the day bringing scattered activity along the line in the northwestern half of the state. Activity will move into central areas by the time we head to bed on Thursday. The front will continue to bring spotty activity overnight as it starts to move into the southeastern half of the state.
Come Friday, spotty activity along and ahead of the front will be possible in the east and south-central areas. The front will slowly exit come Friday night. This weak cold front is not expected to be a soaker. Light to moderate rain will be possible and most areas could see a trace to a quarter of an inch, with isolated higher amounts possible.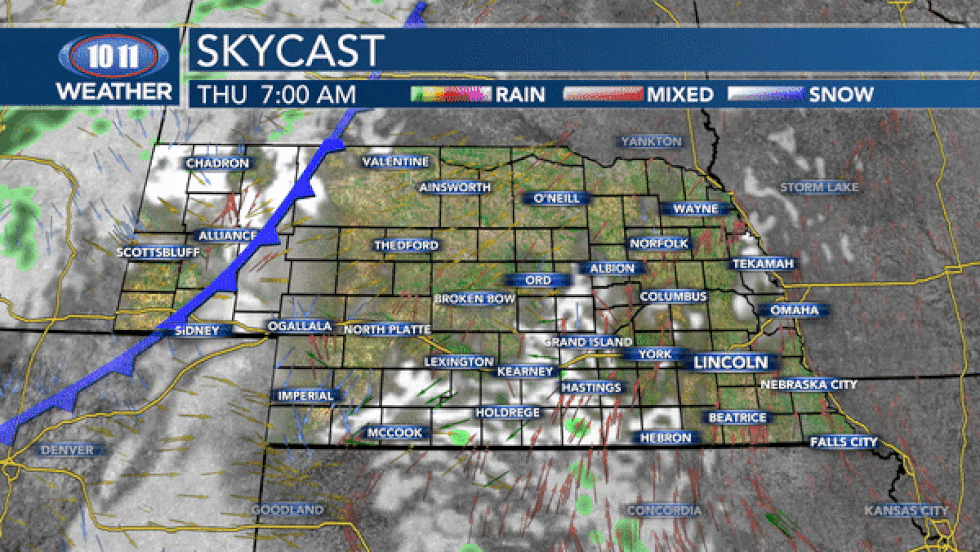 Since the front will be weak, we will not see too much of a drastic change or range in temperatures. Highs on Thursday will be in the mid to upper 70s and lower 80s. It'll be cooler in the Panhandle, but the rest of us remain fairly seasonal.
Low temperatures Friday morning will be near average too.... falling to the mid to upper 50s.
Friday is when we see the slightly cooler temperatures. Highs will stay in the 70s for the 1011 region.
High temperatures will return to the 80s by the weekend and follow us into next week. We will see the continuation of rain and storm chances into EARLY Saturday morning and then dry conditions take over until next Tuesday & Wednesday.
Copyright 2023 KOLN. All rights reserved.