Friday Forecast: Clouds and scattered rain expected to finish the work week
Published: Sep. 14, 2023 at 4:00 PM CDT
|
Updated: Sep. 15, 2023 at 5:19 AM CDT
LINCOLN, Neb. (KOLN) - A weak cold front is expected to push through the state as we head into the day on Friday. This will give us slightly cooler than average temperatures as well as a shot at some scattered showers and thunderstorms through the day across the 10/11 coverage area. The weekend looks to be very nice, especially considering last September during this time we had highs in the 90s and 100s.
Look for increasing cloudiness tonight, but generally quiet conditions. Isolated to scattered light rain showers will be possible across parts of central and western Nebraska by late Thursday. Through the overnight hours and into Friday morning, clouds and rain will continue to shift to the east. For Lincoln and eastern Nebraska, our best chances to see moisture will likely come during the workday, with rain chances tapering off pretty quickly past 5 PM on Friday. Skies should be fairly overcast through most of the afternoon, with skies clearing from west to east as we head through Friday night.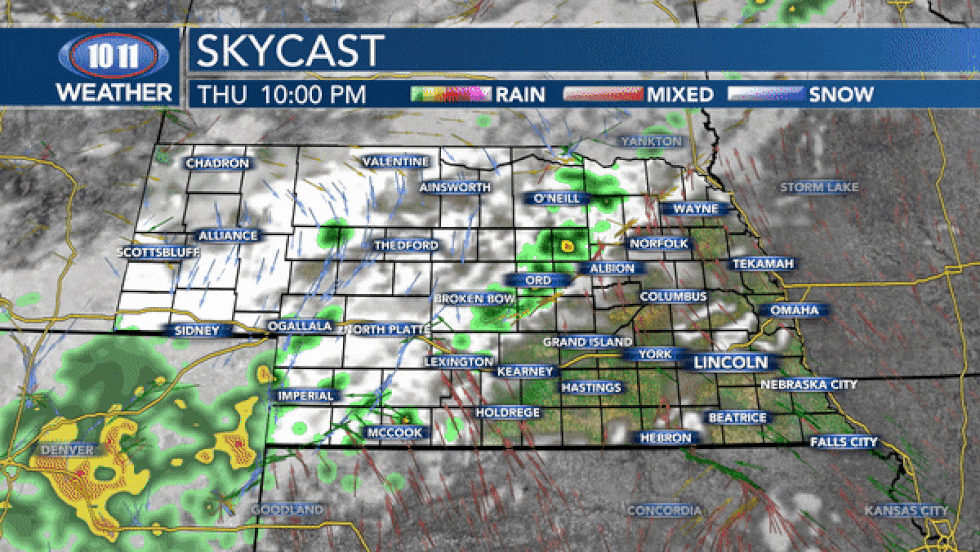 Rainfall amounts aren't expected to be overly impressive, generally a few tenths of a inch is what most areas could expect to see. With some isolated thunderstorms expected, some areas could pick up some locally heavier amounts, perhaps up to 0.50″ through Friday night.
High temperatures in the afternoon will be a few degrees below average thanks to the passing front, clouds, and scattered rain. Most of the state should top out in the 70s with low 70s in the west and upper 70s in the east.
The Husker gameday forecast for Saturday is a good one. Kickoff against Northern Illinois is slated for 6 PM - look for mainly clear skies with temperatures comfortably in the mid to upper 70s. By the end of the game, skies should still be clear with temperatures cooling into the upper 60s.
Lows tonight in the 40s and 50s.
Forecast highs Saturday will be in the 70s and lower 80s.
The extended forecast keeps the nice weather running to finish the weekend as highs on Sunday should reach the upper 70s in Lincoln with sunny to mostly sunny skies. Warmer weather returns early next week with temperatures jumping back to the mid to upper 80s for Monday, Tuesday, and Wednesday. Generally dry weather is expected, though we will include some low-end rain chances on Tuesday and Wednesday. A stronger and potentially wetter system is looming on the horizon for late next week as temperatures cool down and rain chances increase. Stay tuned.
Copyright 2023 KOLN. All rights reserved.